Projects
Mandolin Solo CD
NOROC Quartett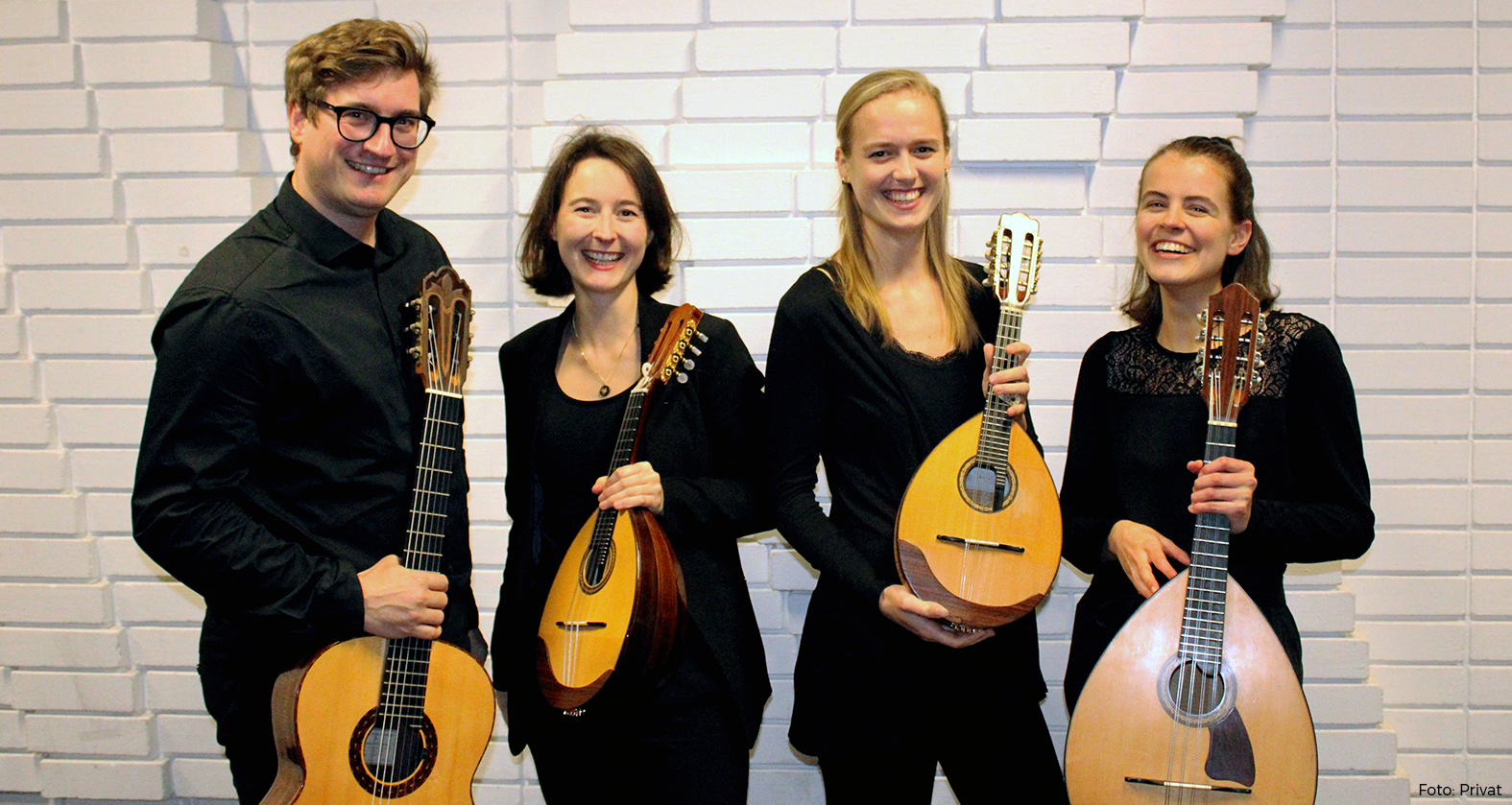 The NOROC Quartet, consisting of Charlotte Kaiser, Jolina Beuren, Maja Schuetze and Philipp Lang, was founded in the summer of 2021. The four musicians, all of them soloists and active in various chamber music ensembles, are prizewinners of national and international competitions or Scholarship holders from renowned funding programs. They got to know each other in the german mandolin and guitar youth orchestra (Bundesjugendzupforchester). There they discovered their enthusiasm for making music together in a plucked quartet.
On mandolin, mandola and guitar, they interpret versatile styles in original compositions and arrangements, combining different schools and new techniques in a wide sound spectrum. The quartet's repertoire includes works by Vivaldi and Beethoven as well as rarely performed and contemporary literature, ensuring an exciting, varied concert experience.
Bundesjugendzupforchester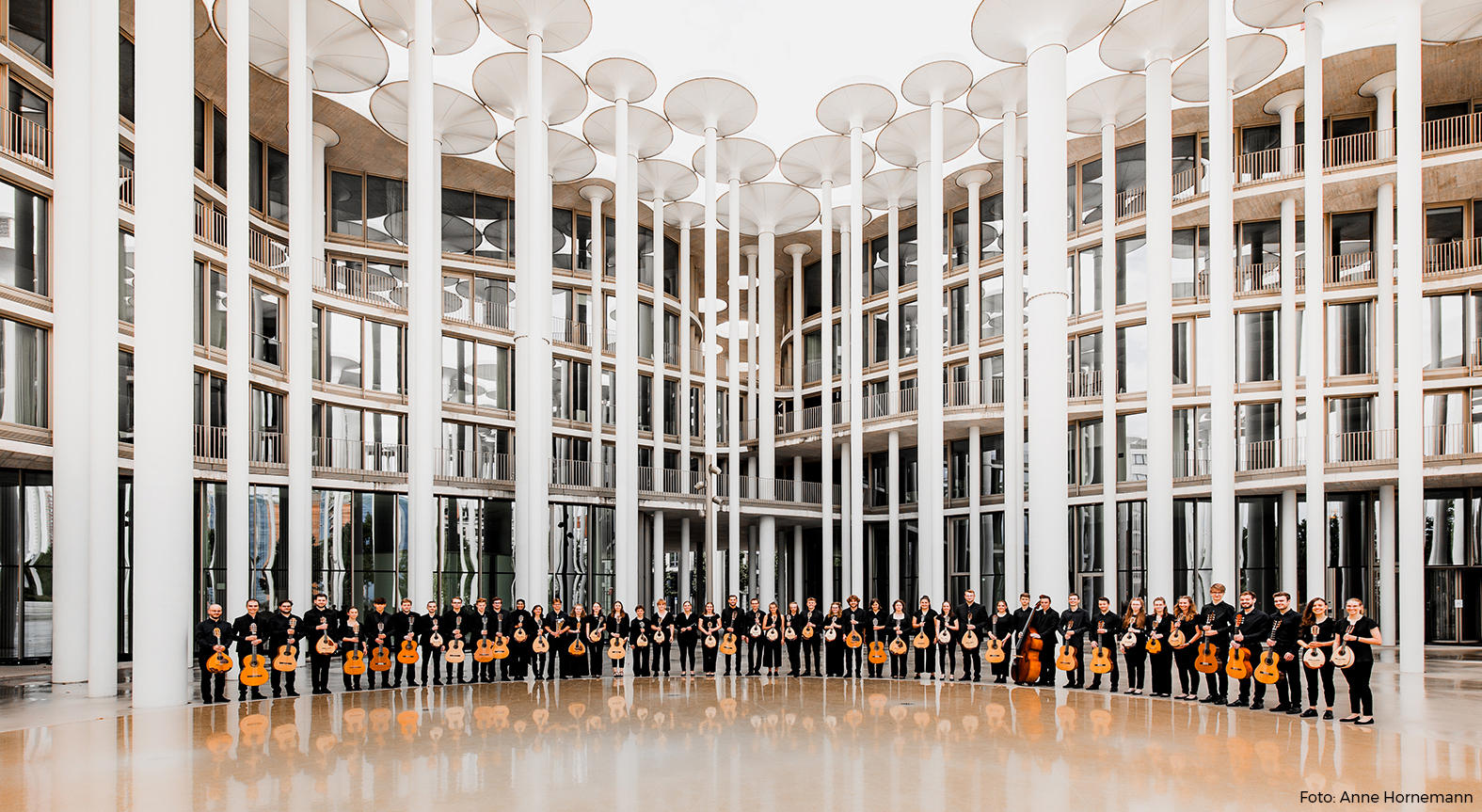 The Bundesjugendzupforchester (BJZO) is a selection orchestra of outstanding young mandolinists, guitarists and double bass players from all over Germany. In the annual rehearsals and concert phases, a space is created for exchange and connection in which music is made with high quality standards. The concerts delight connoisseurs of plucked music as well as non-specialist audiences. The orchestra was founded in 2019 by the mandolinists Laura Engelmann, Clara Weise and Charlotte Kaiser, who continue to act as organizers.
Past concerts:
16.8.2019: Rathaussaal Bad Segeberg
15.8.2020: Onlineconcert DJH Wernigerode
27./28.8.2021: St. Martin Hannover-Linden / St. Martin Seelze
29./30.7.2022: Historische Stadthalle Wuppertal / Orchesterzentrum NRW Dortmund
28./29.7.2023: Loewensaal Dresden / Alte Boerse Leipzig

Recording of the concert on July 28, 2023 in Dresden
» on YouTube

Repertoire
Charlotte Kaiser places great emphasis on a concert repertoire with a wide variety. Besides performing baroque and original classic literature (including Domenico Scarlatti, Gabriele Leone, Nepomuk Hummel and Ludwig van Beethoven) solo or accompanied by cembalo or guitar her interests also lie in contemporary interpretations of romantic mandolin literature. A favourite of hers is Raffaele Calace, a grand master of this period, whose preludes to this day belong to the most virtuous compositions for solo mandolin distinguished by technical ambition and deep musical emotion.
Most of all Charlotte Kaiser is fascinated by the interpretation of contemporary compositions, for example by Yasuo Kuwahara or Heinrich Konietzny. Their compositions, which require highest virtuosity combined with expressive rhythm and broad dynamic spectrum, open new ways of expression to the mandolin thus offering the listener entirely new insights into the world of mandolin music.
In addition to her solo activities, Charlotte Kaiser collaborates on different events in various chamber ensemble-instrumentations. She can draw on a wide repertoire, particularly in the tonally appealing duo with piano. Also, she adapts violin literature to the mandolin letting them sound in new ways. In addition to original mandolin concerts, this also offers the opportunity to perform as a soloist with orchestras. Well-known examples of original literature for mandolin as part of the classical concert program are Vivaldi's concerts. Contemporary orchestral works such as the Mandolin Concert by Avner Dorman, on the other hand, show the diverse tonal possibilities of the mandolin. As part of stage music, the mandolin can be found, for example, in the operas Don Giovanni (Wolfgang Amadeus Mozart) and Die Tote Stadt (Erich Korngold).